---
May 2020 Magazine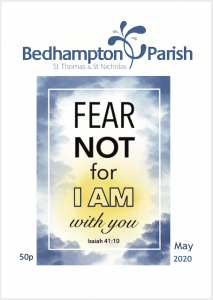 No lockdown is going to stop our intrepid magazine team delivering this months magazine to you.
This month Max the Rector reflects on some locked down stories. We get all messy as we look at the re-launched Messy Church, and how we can get messy at home. We also hear about the Bedhampton Volunteers amongst many other pieces of Bedhampton news.
The Bedhampton Parish Magazine is published monthly and contains news, insights and photographs of our parish activities.
As you might expect there will be no deliveries this month due to the lock down. A limited amount can be printed in house so please contact us if you need a printed copy. Better still download the magazine here.