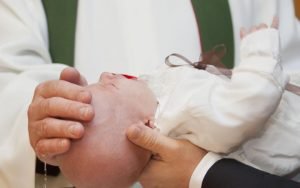 Baptism and christening services. We use the terms "Christening" and "Baptism" interchangeably!
If you are thinking about being baptised or about bringing a child for baptism we are pleased that you are thinking about taking this step and are here to support you and your family as you explore this.
Whether as a child or as an adult, baptism marks the beginning of a journey of faith as part of the local and worldwide Christian family. When an adult or young person makes that commitment, they make promises about their belief in God and about how they will seek to live a Christian life. This normally involves meetings to explore the Christian faith.
If a young child or baby is to be baptised, parents and godparents make promises both for themselves and for the child. To help parents and godparents appreciate their responsibilities we invite baptism families to a Baptism Tea at St Thomas' where we explore what baptism means and what happens at the service. It is at this time where we normally set the date for the Thanksgiving and Baptism. We do what we can to accommodate your preferred date however, you will understand that often dates over the new few immediate months are already booked.
Children brought for baptism are invited to a Thanksgiving at St Nicholas'. This introduces you and your child to our church family and celebrates the gift of your child without the commitment that baptism involves. Other family and friends are very welcome to come to support you.
The next step – baptism at St Thomas' – is on the third Sunday of the month as part of the 11 am service.
For more information contact us for a chat.